Contact us

Free shipping on U.S.*
orders over $125.00

101 Uhland Road Suite 201
San Marcos, TX 78666
(512) 353-5130
Thomas Wooden Railway:

Last updated 11/8/2017

Thomas Wooden Railway: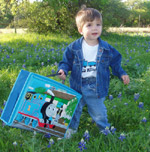 Old Mill Station T-Shirt!



Welcome to Old Mill Station's Set and Table page. You will find the sets listed first from introductory sets to advance sets. All sets listed are in stock at Old Mill Station. The table and playboard options are listed after the sets. The Thomas Wooden Railway System is designed to grow with a child's increasing ability and creativity. As a child's skills develop, add more track, vehicles, destinations and accessories. If you have any questions, please email or call us. We will be happy to assist you.


Introductory Sets

Battery-Powered Sir Topham Hatt Figure 8 Set

Our Price $59.99
Availability: In Stock



This battery-powered set will stop Thomas in his tracks! With a push of a button, little engineers can set Thomas into motion! Then, with a turn of Sir Handel Hatt, they can stop Thomas to give him a really useful job. Add this battery-powered set to your collection for years of imaginative play. This 26-piece introductory set is a great entry into Thomas Wooden Railway.
Ages: 3+
LC99724
MPN:796714997247


Bridge and Crane Set


Retired
Our Price $59.99
Availability: In Stock



Take a trip with Thomas over the Sling Bridge and to the Swivel Crane! The Bridge and Crane Figure 8 Set is the perfect introduction to the wonderful world of Thomas and Friends. Little engineers can load cargo at the Swivel Crane and then pass over the Sling Bridge with their special delivery! (28 piece set)
Ages: 3+
LC99575
MPN: 796714995755

Intermediate Sets
Harold's Mail Delivery Set

Retired Item.
Sale Price $59.99


Help Harold and Thomas deliver the mail thoughout the Island of Sodor.

Includes exclusive Mail Station and Harold with magnet to carry mail and other cargo.

Over $110 in retail value.
Ages: 3+
LC99559
MPN: 796714995595
Treasure at the Mine Figure 8 Set

Introducing Treasure at the Mine Deluxe Figure 8 Set for Fall 2013. Stephen is trapped in the mine!This play set, themed after the latest Thomas & Friends DVD "king of the Railway", is packed withaction and adventure to allow your child to re-enact some of the gripping moments. Comes with a Figure 8 track set, Stephen, Cargo car, treasure chest cargo with kings crown, crane and mine Ages: 3+
Y4480
Our Price $79.99
Availability: In Stock





Man in the Hills Set


It's Mr. Percivals birthday party and Thomas is in charge of gathering the ingredients for the cake. But he is distracted by trying to find the man that has never been seen...the Man in The Hills. Inspired by the episode "Man in The Hills" this set features: Exclusive glow-in-the-dark Man in the Hills image on mountain Magical sliding door at the Mill -- see flour sacks and sugar turn into a birthday cake! Barrel loader loads barrels onto cargo car. This 25 piece set includes Thomas and Sir Handel. Ages: 3+
LC99598
MPN: 796714995984 Sale Price $65.99
Availability: In Stock



Toby and the Whistling Woods Set


LC98519MSRP $99.99
Sale Price $74.99
Ages: 3+ years
LC98519
MPN: 796714985190
Availability: In Stock



Inspired by the episode,"Toby and the Whistling Woods".

Toby has a special delivery, but must travel through the Whistling woods first! In the woods, he hears all kinds of spooky noises including a hooting owl, a waterfall, and the wind! This includes Toby, Thomas, and a cargo car.(28-Piece Set)
A Day at the Wharf Set (LC99578)

Sale Price $159.99


This thrilling 50-piece set allows little engineers to race their favorite engines side by side! Includes Thomas, James, Collin the Crane, plus much more.
Ages: 3+
LC99578
MPN: 796714995786
Availability: In Stock


spacing

*Items with award symbol have received recognization from various groups including Oppenheim Gold, Siver, Platinum, Special Needs; Parents' Choice; National Parenting Publications Honors Award, Scholastic Parent & Child Magazine, Teacher's Picks "Top 10 Toys of the Last 10 Years" Award.




Thomas the Tank Engine and Friends TM Created by Britt Allcroft
Based on the Railway Series by the Reverend W. Awdry. A HIT Entertainment Company. Thomas the Tank Engine & Friends and Thomas & Friends are trademarks of Gullane Entertainment Inc. Thomas the Tank Engine & Friends & Design is Reg. U.S. Pat. & Tm.Off.
Copyright 2012 Learning Curve International
Copyright 2015 Fisher Price