Contact us

Free shipping on U.S.*
orders over $125.00

101 Uhland Road Suite 201
San Marcos, TX 78666
(512) 353-5130
Thomas Wooden Railway:

Last updated 7/22/2019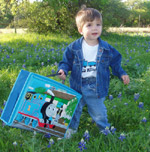 Old Mill Station T-Shirt!



Welcome to Old Mill Station's Set and Table page. You will find the sets listed first from introductory sets to advance sets. Due to the retirement of Thomas Wooden Railway, the inventory is limited. The Thomas Wooden Railway System is designed to grow with a child's increasing ability and creativity. All Sets are sold out on the Old Mill Station website.


Introductory Sets


*Items with award symbol have received recognization from various groups including Oppenheim Gold, Siver, Platinum, Special Needs; Parents' Choice; National Parenting Publications Honors Award, Scholastic Parent & Child Magazine, Teacher's Picks "Top 10 Toys of the Last 10 Years" Award.




Thomas the Tank Engine and Friends TM Created by Britt Allcroft
Based on the Railway Series by the Reverend W. Awdry. A HIT Entertainment Company. Thomas the Tank Engine & Friends and Thomas & Friends are trademarks of Gullane Entertainment Inc. Thomas the Tank Engine & Friends & Design is Reg. U.S. Pat. & Tm.Off.
Copyright 2012 Learning Curve International
Copyright 2015 Fisher Price